Socay electronics participate in
2020-09-04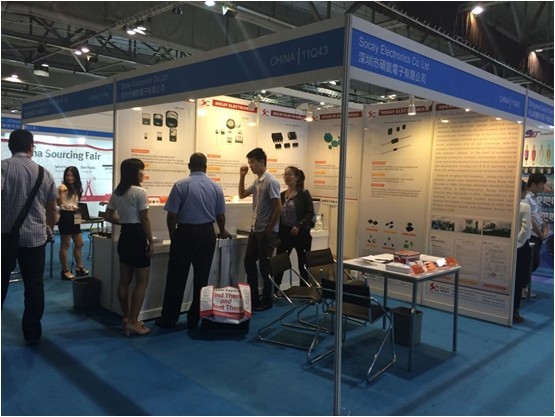 Socay electronics participate in "global sources electronics products and parts exhibition" in Hongkong in 2014.Welcome to visit the booth.

Address: Hongkong Asiaworld Expo, Hall11, Booth:11Q43,
Show time: October 11, 2014 to October 14th
Exhibition introduction:
Purchasing the new electronic products, update the product line and seize market opportunities! 2014 October 11 to 14, "global sources electronics products and parts exhibition" will be held in Hongkong Asiaworld Expo, welcome to visit.
The exhibition has 90% exhibitors is exclusive, consumer electronic products procurement platform of Asia′s leading, the number of visitors rose steadily, included from Samsung, Hewlett-Packard and Panasonic and other international well-known brands sourcing team.
If you still need to buy intelligent mobile phone, tablet computer or other electronic products and accessories, don′t miss it three days after the October 18th opening of the "global resources of mobile electronic products exhibition".
At the same time, the exhibition will be with the "global resources security products exhibition" and "South Korea electronic products and parts exhibition" held in the same field, exhibited a total of more than 4100 booths of the latest products, including computer peripheral products, computer terminal, network products, communication products, the latest Headset and other audio-visual products, and is equipped with the Asian largest vehicle electronic products and global positioning system is provided, Home Furnishing Pavilion, car and office electronics products one-stop sourcing platform.
The exhibition the exhibitors for manufacturers, so that buyers not through an intermediary, can be directly at very competitive prices and flexible trading conditions of purchasing the latest electronic products and components. At the same time, a new procurement exhibition area, additional display hundreds of mostly from non exhibitors featured the best-selling products, provide more choice for buyers to purchase.
Global sources online exhibition can provide even before the exhibition, exhibition, exhibition after the full range of services. Buyers can visit the show site, fast search products and suppliers, and preview the tens of thousands of pictures of products, understand the supplier details, target lock in advance, improve procurement efficiency.
Socay Electronics Exhibition scene: